Welcome
Today:
January, 16, 2013
"Pat Barton and his team at Earthworks have been providing excellent service to our location for a few years.
Dependable, responsible and reliable are words I would use to describe Earthworks...
...Earthworks is easy to work with!"
—Sarah C., General Manager, Applebees, North Dartmouth, MA
FREE Estimates!
If you're interested in having a professional lawn care, landscaping or tree service to maintain your home or office, please feel free to contact us!
We offer FREE estimates! We are located in South Dartmouth, MA. No job too big or small!
Click here to request your free estimate!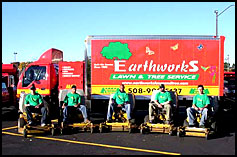 Get your property looking great!
Our lawn care, landscaping and tree services include:


Welcome to Earthworks Lawn and Tree Services.

At Earthworks Lawn and Tree Service, we are specialists in residential and commercial lawn and tree care. We have the knowledge and experience to create a lawn and outdoor area that is high quality and low maintenance.
Our lawn and tree care professionals will work with you from concept through completion, to long-term yard maintenance and seasonal upgrades.
Serving southeastern Massachusetts and Rhode Island since 1980, we have proven lawn and tree care experience. We offer a professional and knowledgeable staff along with the most updated equipment needed to complete your job in a timely manner. Our clients include homeowners, property management and commercial companies. If you have a lawn or yard to maintain we have the expertise you need.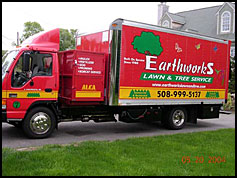 Quality customer service is only one of the reasons for choosing us. By browsing our site you will be introduced to our services, and view examples of the quality lawn service, landscaping and tree work we provide.
Enjoy your visit.